Andrea NC185-VM USB Headset
The USB interface of the Andrea NC185VM gives fantastic quality audio reproduction which is ideal for broadcast or speech recognition applications and far exceeds requirements for Voice over IP applications.
The Pro-Flex microphone boom allows for fast and easy positioning and the included wind sock prevents 'pops' that unshielded microphones can suffer. Fully adjustable, the NC185VM can be worn on either the left or right hand side of the head while the stainless steel adjustable headband means that you can get the right fit for you.
The single 40mm speakers provides plenty of sound depth while maintain the convenience of a free ear for answering phones or having conversations without having to remove the headset.
The Andrea NC185VM USB Headset is easily our most popular headset for use with Dragon NaturallySpeaking 12 and Dragon Dictate 3 and the simple plug-and-play setup means no hassles.
When high quality audio is your top priority, look no further than the Andrea Communications NC-185VM USB Stereo Headset, offering unparalleled speech and sound clarity with the convenience of in-line volume and mute controls. The exclusive noise-canceling microphone, with a windsock that minimizes breath popping, has been awarded the coveted "6 Dragon" rating for speech accuracy by Nuance. 
Product Features:
•   Proprietary noise-canceling microphone with windsock to minimize breath popping
•   Pro-flex wire microphone boom for perfect placement
•   40mm stereo speakers with deep bass sound deliver crystal clear audio
•   Convenient in-line volume and mute controls
•   Comfortable foam ear cushions
•   Reversible for left or right side usage
•   Stainless steel adjustable headband folds flat for storage
•   Extra long 8-foot shielded cable with external USB  sound card and USB plug
•   Well-built and cost-effective
•   Patented audio enhancement software download available for purchase from Andrea Electronics Corporation (not recommended for use with voice recognition software including Dragon): http://www.andreaelectronics.com/acl/audiocommander.html 
COMPATIBILITY
•   PC: Windows XP, Windows Vista, Windows 7, Windows 8, Windows 8.1, and Windows 10
•   Apple: Mac OS X 10.5 and higher
•   MacBook with USB-C ports require C-400 USB Type C Adapter for USB connectivity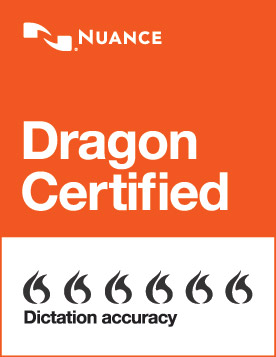 There is also a mono (one ear piece) model called the Andrea NC181VM. The microphone system, audio quality, and accuracy in Dragon are identical between the two but the NC181 has just one ear piece, ideal for people who are answering telephones or wish to still be able to clearly hear what is going on around them.