Review: Dragon Dictate 3
Macworld has reviewed Dragon Dictate 3, its a very positive review and well worth reading. We also have recently completed a Dragon Dictate 3 Mac review on this website.
 "Nuance has now released 
Dragon Dictate 3
, building on the foundation developed over the past few years since the company 
acquired MacSpeech
, the original developer of Dictate (MacSpeech's Dictate used the Dragon speech-recognition engine).
Dragon Dictate 3 includes both improvements and new features. One of the small-yet-valuable additions to the program is the presence of a simple, interactive tutorial that plays when using Dragon Dictate for the first time, or whenever a new profile is created. (Profiles are created when you begin voice training the program with a specific microphone. The profile also contains information about your vocal style, which helps the Dragon Dictate improve recognition over time.)The tutorial helps familiarize new users with the basics of dictation: how to speak punctuation, how to correct mistakes, and how to edit text. While I certainly recommend reading the manual, the tutorial can have you up and running with Dragon Dictate 3 in just a few minutes. I also recommend downloading the Dragon Dictate Command Cheat Sheet for Mac, which lists the most commonly used commands.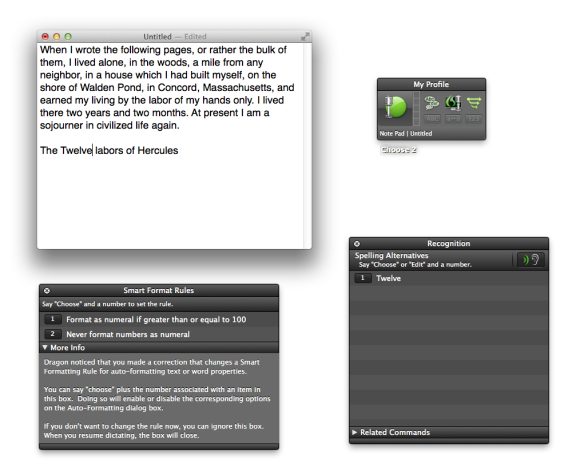 Nuance refined Dragon Dictate 3's recognition engine, and in my tests, out-of-the-box accuracy was noticeably better than in the previous version. (My tests were performed after performing the obligatory 5-minute voice training session after creating a profile.) Correction is a bit smoother as well, and one notable addition is what Nuance calls Smart Format Rules. When you say certain types of text (numbers, abbreviations, salutations, etc.), the Smart Format Rules palette appears, asking if, for example, you wish to always use numerals or always spell out numbers. You can adjust a number of auto formatting settings in the Tools -> Auto Formatting window, but the Smart Format Rules palette can save a lot of time, since it appears the first time you say certain types of texts.
Transcription
Transcription is another marquee feature in Dragon Dictate 3… Read the full article"
Thanks Macworld. That's a great insight into the new Dragon Dictate Mac. We will have stock very soon for those wanting upgrades or full versions of Dragon Dictate 3 Mac.
The post Dragon Dictate Mac 3 – Review appeared first on Speech Recognition Blog.